Article:

New DB Systemtechnik test locomotive goes into operation
200 km/h Vectron locomotive equipped with ETCS train protection system Baseline 3 is new to DB Systemtechnik's fleet.
Minden, 8 December 2021) DB Systemtechnik, Deutsche Bahn's rail technology service provider, has expanded its fleet. The Siemens Vectron locomotive (class 193) has now had its company decals applied in Minden, so it will be flying the flag for DB Systemtechnik as it performs its measurement runs.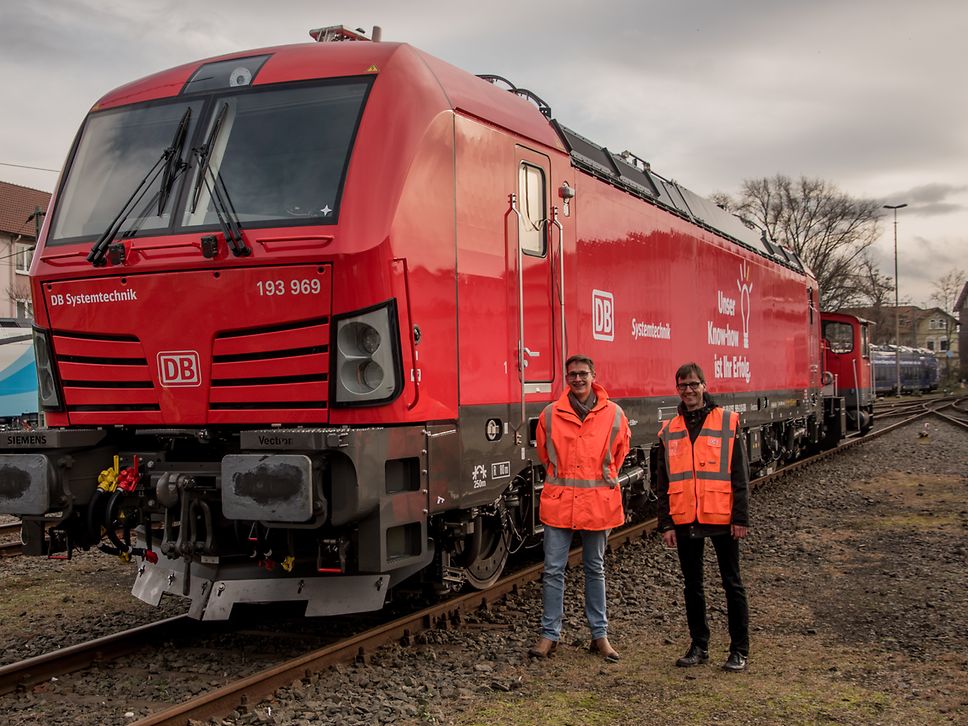 Delighted with their new addition: Hinrich Hempel and Jan-Nicolas Christoph from DB Systemtechnik's Vehicle Management team.
The 8,700 hp, 200 km/h locomotive is equipped with the Baseline 3 train protection system. This makes it perfect for homologation runs on rail lines that will be equipped with the new ETCS train control system, which will be standardised throughout Europe.
ETCS on the Rhine-Alpine
The locomotive will be mainly used on the DB lines of the European Rail Freight Corridor Rhine-Alpine from spring 2022. It will carry out ETCS acceptance runs for almost two years on behalf of DB Netz, checking the compatibility of trackside ETCS equipment with on-board ETCS equipment.
In addition to approval runs for rail vehicles and track infrastructure, the new locomotive can also be used for any other type of test in the rail sector. It will be used in transferring registered and unregistered vehicles as well.
Modernising the fleet
The new Vectron locomotive is an important step on the way to modernising the DB Systemtechnik fleet. More track geometry cars are set to be modernised or upgraded over the next five years. Work to upgrade a class 101 locomotive to ETCS Level 2 Baseline 3 together with Siemens deserves a special mention here.
DB Systemtechnik's ICE-S high-speed test train will also continue to play an important role in the certification and testing of high-speed components and high-speed lines in the coming years. This test train was last on the move in November, with a new high-speed train from Siemens Mobility, the Velaro Novo.Impressions: